The time was 1977 and I was 12 years old and a movie called Star Wars was released to the big screen.  The movie blew me away.  There were all sorts of neat gadgets that even Jame Bond would have been jealous of.
One of these gadgets was called a Droid Caller.  In the movie the Droid caller was a handheld transmitter device that was used to summon droids or activate their restraining bolts.  In the movies Luke Skywalker, Han Solo and those funny little creatures called jawas carried these Droid Callers.  Like many props used in the Star Wars movies, they were built using parts of existing products.  I didn't know it at the time, but most of the Droid Caller units were built using the hand held part of the Kobold BC flash.
BC stands for Battery Capacitor, which basically means that the Kobold Flash used both a battery and capacitor.  The battery was used to charge the capacitor and the capacitor would ignite the flash.  The manual said the 22 1/2 volt batteries typically had a life span of about 1 to 1 1/2 years.
The Kobold Flash was made in Germany in the 1950s by a company called the Kobold Camera Equipment Company.  I am not sure what happen to the company and there doesn't appear to be any indication what happened.
When removed, the Droid caller resembled something quite futuristic and played a role in controlling R2-D2 and C3PO.
The Kobold Flash or Droid Caller usually came in 2 colors.  Black with silver on the top and a Silver with a black stripe.  The Kobold text was either silver or red, depending on the model.
People have made resin casts of the Kobold and are selling those on the internet for $20-40.  You can also find the Leitz Leica Flashgun, which can work as a substitute for the Kobold.  These are much cheaper and can be found with flash screen for $10 – $30.  Dark Energy Creations makes a reproduction for $150+, but you're better off trying to locate the real thing.  With the rise in 3-D printing, people will soon be able to print their own right from home.
Star Wars is very collectable, so finding a Kobold flash on the cheap will mean you can turn around and sell it for well over $50 – $100 or you can do what I want to do and turn it into a Droid Caller.  The droid caller is considered a Greebly for the Han Solo and Luke Skywalker belt/holster.  There are also other items that make up the Greeblies on the belts and holsters.
Kobold Flash connected to a Exakta camera.  It sold for $8.20 marks in 1956.
Dark Energy Creations is creating a Droid Caller based on the Kobold Flash design.
Here is a resin Droid caller made to look like the Kobold Flash.
This Droid Caller was made from a Leitz Leica Flashgun and slightly modified to look as it does.  The top was cut down, a chrome plumbing adaptor was added to the top and part of an acrylic ball was added to the top.  The side switch and D-Ring were also added so the caller could be hung from a belt.
Here is what the Leitz Wetzlar Flashgun looks like.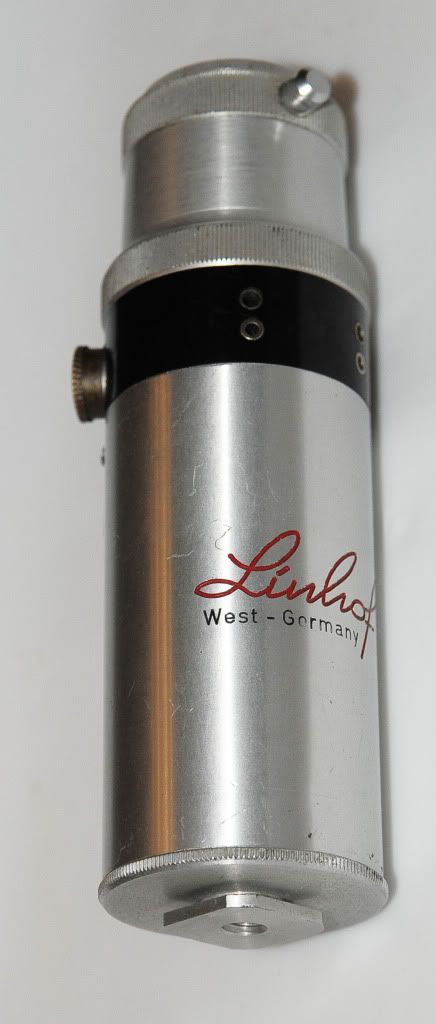 Another West German camera company called Linhof also had flashes that looked almost identical to the Kobolds.  I believe these were made by Kobold for Linhof, but I can't be certain.
When searching for a Kobold Flash, which are very rare, you can use the following searches
Kobold Flash
Kobold Flashgun
Kobold Bulb Flash
Droid Caller
Kobold Droid Caller
Linhof Flash
If you can find a Kobold Flash under $50, it's a bargain and you should snatch it up.  You could probably double your money if you want to sell it or be happy that you found a really cool piece of Star Wars memorabilia.